Las Vegas Motor Vehicle Accident Attorney
When truck crashes, car accidents, or motorcycle wrecks cause severe injuries or deaths, Las Vegas motor vehicle accident attorney Christopher Burk ensures that at-fault drivers and their insurance companies pay the price. Representing injured victims in Nevada, Arizona, California, and Hawaii since 2004, Chris has dedicated his career to fighting for the little guy. 
If you suffered serious injuries in a crash, you need motor vehicle accident lawyer Christopher Burk on your side.
Motor Vehicle Accidents Stats
Motor vehicle crashes take the lives of nearly 1.3 million people worldwide every year. Another 50 million are severely injured or permanently disabled.
In the United States alone, more than 38,000 victims are killed in motor vehicle accidents. Approximately 4.4 million more are injured severely enough that they require medical attention. If you regularly drive in Nevada, you are approximately 21% more likely to be involved in an injury accident than if you were driving in another state.
In addition to the initial injuries and deaths auto accidents cause, they often leave a path of destruction in their wake.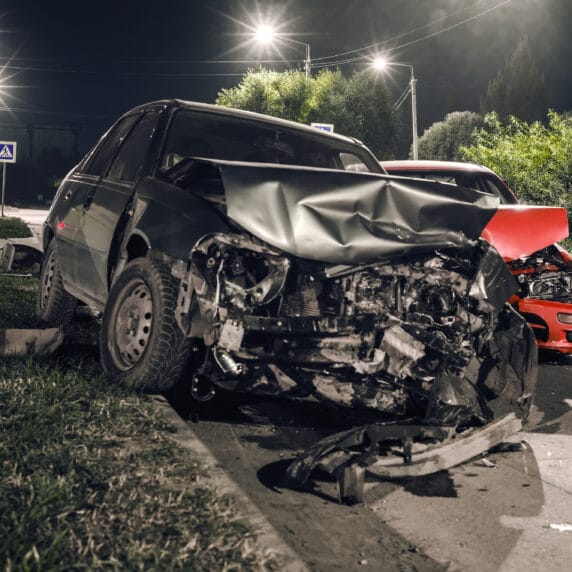 The True Cost of Motor Vehicle Accidents in Las Vegas
In the aftermath of a crash, victims are financially burdened by:
Medical bills
Lost wages
Lost earning capacity
The loss of employment benefits
Property loss
The cost of in-home nursing care
Special equipment
Sadly, financial losses are not the only challenges injured victims must face. They also endure:
Emotional trauma
Physical pain
Lifestyle changes
Loss of enjoyment
Loss of independence
These burdens often continue for months after a motor vehicle accident victim's injuries have healed. In some cases, people battle these hardships for the rest of their lives.
Car Accident Lawyer Chris Burk Won't Let Big-Name Insurance Companies Run Over Victims
Insurance adjusters and accident investigators who work for big-name insurance companies and powerful corporations often do everything in their power to avoid paying out large settlements to victims who are seriously injured or the families of those who are killed in car crashes. Fast-talking representatives use sly tactics, intimidation, and other unscrupulous methods to convince victims to accept inadequate settlement offers, doubt the validity of their own injury claims, and give up on pursuing financial recovery. Car accident lawyer Christopher Burk stands up to big-name insurance companies and large corporations, fighting for the rights of the little guy, and taking injury cases to court when necessary.
"Chris works hard to get you the cash and care you deserve. His professional and friendly staff provide excellent support throughout the entire process. Chris supports veterans and made it his personal mission to help me and my family, thank you!"
Michael Tomasello
"After getting knocked off my motorcycle by a careless driver, I knew I needed help. This was my first time being injured in an accident. Chris Burk and his team educated me on the process, kept me informed during my case, and got me way more than I ever expected. I can not thank them enough. If you are looking for a group of professionals that genuinely cares about their clients, will put your best interest first, and will work hard to get what you deserve, then you have found the perfect legal team to represent you."
Dale Jones
"Everyone at Burk Injury Lawyers was great with helping me with my case and keeping me informed on what was going on in the whole process. Chris was super efficient and helpful throughout the whole process. His case manager Mylee was awesome and followed up with me a lot via e-mail and over the phone to let me know how everything on their side was going as well as to see how my treatments were. Thank you Chris and everyone at Burk Injury Law!"
Aleksandra Bolta
Mr. Burk did an amazing job when it came to my injury case. He even gave me his cell phone number. What other attorney does that? He followed up on a weekly basis, from Dr visits, to just checking on my well-being. I would highly recommend Mr. Burk to family, friends, & colleagues. Thank you again for all your help.
Daniel Amico
Mr. Burk handled my case with great professionalism and care. With his expertise he was able to save me medical expenses for unnecessary procedures as well as refer me to a great chiropractor. Knowledge and experience can be expected from Chris. 
Joel Wurster, Las Vegas, Nevada
Chris's passion for his clients and is beyond reproach. My needs were met from start to finish. If I could use one word to describe the experience 'turnkey' would best fit. After my accident and subsequent injuries I didn't know how to approach insurance carriers to discuss my situation. Chris worked with me every step of the way in getting me the appropriate care needed for my injuries, damages and communicated regularly on all aspects of my case. 
Joseph Almasy
Chris was able to handle my case with ease. His office is set up so you can scan and email him your information. He took his time and he actually cared about my case! He gave me his personal cell phone and email. He was able to resolve the case quickly and efficiently. Chris and his staff are so easy to work with!
M. De Los Santos
El Sr. Burk hizo un trabajo increíble en lo que respecta a mi caso de lesiones. Incluso me dio su número de teléfono celular. ¿Qué otro abogado hace eso? Él hacía un seguimiento semanal, desde las visitas del Dr., hasta simplemente verificar mi bienestar. Recomiendo encarecidamente al Sr. Burk a familiares, amigos y colegas. Gracias de nuevo por toda tu ayuda.
Daniel Amico
El Sr. Burk manejó mi caso con gran profesionalismo y cuidado. Con su experiencia, pudo ahorrarme gastos médicos para procedimientos innecesarios y recomendarme a un gran quiropráctico. Se puede esperar conocimiento y experiencia de Chris.
Joel Wurster, Las Vegas, Nevada
La pasión de Chris por sus clientes y está más allá de cualquier reproche. Mis necesidades fueron satisfechas de principio a fin. Si pudiera usar una palabra para describir la experiencia, "llave en mano" encajaría mejor. Después de mi accidente y lesiones posteriores, no sabía cómo acercarme a las compañías de seguros para discutir mi situación. Chris trabajó conmigo en cada paso del camino para obtener la atención adecuada necesaria para mis lesiones, daños y me comunicó regularmente sobre todos los aspectos de mi caso.
Joseph Almasy
Chris pudo manejar mi caso con facilidad. Su oficina eatá configurada para que pueda escanear y enviarle su información por correo electrónico. ¡Se tomó su tiempo y realmente se preocupó por mi caso! Me dio su teléfono celular y correo electrónico personales. Pudo resolver el caso de manera rápida y eficiente. ¡Es muy fácil trabajar con Chris y su personal!
M. De Los Santos
Truck Accident Lawyers Level the Playing Field
Fully-loaded semi-trucks semi-trucks 80,000 pounds. When one of these enormous vehicles slams into a smaller passenger car or truck at highway speeds, the destruction it leaves behind can be massive. Victims of large, commercial truck accidents rarely escape without serious injuries or permanent disabilities. In many cases, truck crashes end in death.
Although the majority of accidents that involve big rigs are preventable, large trucking companies and the drivers themselves often take safety regulations too lightly. Loads are not properly secured, vehicle equipment is not adequately inspected and maintained, hours of service regulations are ignored, and dangerous operating behaviors are performed. Truckers often text and drive, eat and drink behind the wheel, and talk on their cellphones while maneuvering in heavy traffic. Many truck drivers are forced to operate their trucks while they are fatigued to keep up with hectic schedules. Some truckers even drive while they're impaired by drugs or alcohol. As a result, other drivers, motorcyclists, and pedestrians are placed in harm's way.
Due to the nature of their businesses, large trucking companies are usually prepared for trucking accidents and injury claims. Their insurance companies frequently send accident investigation teams to crash sites before police reports are even completed. Their representatives meet with patients in hospital rooms and with families of victims in emergency department waiting rooms. In many cases, big-name insurance companies are trying to make low-ball deals with victims before the dust has even cleared. Without a truck accident lawyer on their side, victims are likely to be caught off guard and bullied into settling for less than they're entitled to receive.
Motorcycle Accident Attorneys Hold Negligent Drivers Accountable
Motorcycle accidents cause about 5,000 deaths and approximately 100,000 serious injuries every year in the United States. Because of their small size, motorcycles can be difficult to see on the road, particularly at intersections and in heavy traffic.
Because motorcycles offer little protection in a collision with a car or truck, motorcycle accidents often result in catastrophic injuries. Victims frequently suffer severe road rash, traumatic brain injuries, quadriplegia, paraplegia, and even death. Motorcyclists are approximately 27 times more likely to die in motor vehicle accidents than passenger car occupants.
Drivers of cars and trucks are at fault in two out of every three collisions between passenger vehicles and motorcycles. Although some of the most common causes of motorcycle crashes include distracted driving and failure to yield by other motorists, it's not uncommon for insurance companies to attempt to place blame on riders. The best way to protect yourself from the financial burdens and long-term hardships that can accompany a motorcycle crash is to contact motorcycle accident attorneys who will fight to hold negligent parties responsible for your medical bills and other damages.
Types of Crashes Seen by Top Motor Vehicle Accident Attorneys
Burk Injury Lawyers represents victims in all types of motor vehicle accidents. The most common types of crashes our injury law firm sees include:
Rear-end accidents
Lane-change accidents
Roll-overs
Head-on collisions
T-bone and side-impact crashes
Most injury and fatality accidents are caused by the negligent actions of a motorist, manufacturer, or both. Although distracted driving and speeding are top factors in motor vehicle crashes, impaired driving, defective equipment, and ill-maintained roads contribute to the number of accidents as well.
FAQs About Motor Vehicle Accidents
In motor vehicle accident claims, economic damages are those that can easily be calculated through bills, paycheck stubs, and other physical documentation. These types of damages include lost wages, medical bills, estimated future expenses, and property losses.
Distracted driving and speeding are leading causes of injury accidents in Nevada, but approximately 42% of motor vehicle accidents that occur in Las Vegas involve some form of intoxication.
You are not legally obligated to talk to the other driver's insurance company after a motor vehicle accident. Your personal injury lawyer can answer phone, email, and postal mail communications and negotiate with the insurance company on your behalf. If you do speak directly with the other side's insurance representative, it is wise to be brief and stick to the facts.