Arizona Personal Injury Lawyer
Personal injury lawyer Christopher D. Burk fights against faceless insurance companies and large corporations to protect the rights of injured victims in Arizona. Whether you were injured in a car accident, you slipped and fell on someone else's property, or your loved one died because of the negligence or wrongful acts of another party, our law firm will help you obtain full compensation for your losses.
When you or your loved ones are injured because of someone else's conduct, contact the Arizona personal injury law firm you can trust. Call Burk Injury Lawyers today.
Why Hire Burk Injury Lawyers for Your Arizona Personal Injury Claim?
Burk Injury Lawyers understands that your personal injury claim is not just another case—it's your life. When you hire our law firm to handle your claim or lawsuit, your case will be given the personalized attention it deserves. We won't pass your case off to someone else, or ask you to settle for less than your case is worth. While many other Arizona injury law firms take cases to put money in their pockets, we're in it to fight for the little guy.
Here's what you get when you have Arizona personal injury attorney Christopher Burk on your side: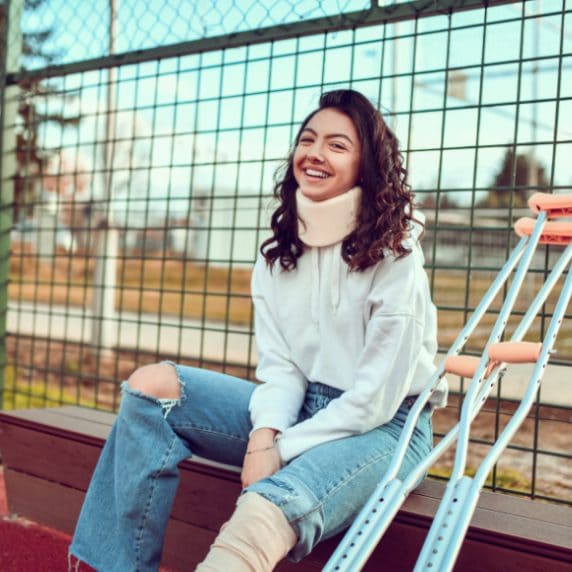 Experience and skill Arizona trusts. Burk Injury Lawyers is a personal injury law firm with over 15 years of experience handling a wide range of personal injury cases. We bring our knowledge, experience, and skill to the table to deliver results.

Client focus. Burk Injury Lawyers treats our clients like people, not dollar figures. Your best interests and the success of your case are our priority. Our client focus is part of what sets our law firm apart from the competition.

Fearless advocacy. Burk Injury Lawyers team does not shy away from facing the wrongdoers at trial or during settlement negotiations. No matter the size or bank account of the adversary, Christopher Burk stands by his clients and his principles.

Protection of your legal rights. Personal injury lawyer Christopher Burk handles all communication with the at-fault parties to make sure your rights are protected. We help ensure that you don't fall victim to the unscrupulous tactics used by insurance companies.
Are You Drowning in Debt After Your Accident?
A serious injury can leave your finances in turmoil. It doesn't take long for the loss of your income, cost of necessary medical treatment, and other accident-related expenses begin to take their toll. While it stands to reason that at-fault parties should be financially responsible for the harm they cause, getting them to pay is a whole other story. With Burk Injury Lawyers on your side, we'll make sure negligent parties are held accountable.
Maricopa County personal injury lawyer Christopher Burk is determined to help victims like you receive full compensation from the at-fault party. Types of damage awards you may be entitled to receive include:
Compensation for lost wages. If you are unable to work because of the injury, you may be entitled to recover money for your lost wages. If your earning potential decreased, or you received a pay cut because of the accident, you may recover the difference by filing a personal injury claim.
Reimbursement for injury-related medical bills. You may be entitled to reimbursement for mileage to and from medical appointments, prescriptions, medical devices, surgery, physical therapy, and other necessary medical treatment.
Compensation for future medical costs. You may be able to recover compensation for medical expenses that you will incur or anticipate incurring in the future, such as follow-up procedures or ongoing physical therapy.
Money award for pain and suffering. Compensation may be available for the pain and suffering you endured because of the accident. Surviving family members in a wrongful death case may recover an award for mental anguish they have experienced.
In rare cases, punitive damages may also be awarded. The courts reserve these types of damages for cases where the at-fault party's actions were intentional or egregious. Punitive damages serve to penalize at-fault parties for their conduct and deter them and others from committing similar acts in the future.
"Chris works hard to get you the cash and care you deserve. His professional and friendly staff provide excellent support throughout the entire process. Chris supports veterans and made it his personal mission to help me and my family, thank you!"
Michael Tomasello
"After getting knocked off my motorcycle by a careless driver, I knew I needed help. This was my first time being injured in an accident. Chris Burk and his team educated me on the process, kept me informed during my case, and got me way more than I ever expected. I can not thank them enough. If you are looking for a group of professionals that genuinely cares about their clients, will put your best interest first, and will work hard to get what you deserve, then you have found the perfect legal team to represent you."
Dale Jones
"Everyone at Burk Injury Lawyers was great with helping me with my case and keeping me informed on what was going on in the whole process. Chris was super efficient and helpful throughout the whole process. His case manager Mylee was awesome and followed up with me a lot via e-mail and over the phone to let me know how everything on their side was going as well as to see how my treatments were. Thank you Chris and everyone at Burk Injury Law!"
Aleksandra Bolta
Mr. Burk did an amazing job when it came to my injury case. He even gave me his cell phone number. What other attorney does that? He followed up on a weekly basis, from Dr visits, to just checking on my well-being. I would highly recommend Mr. Burk to family, friends, & colleagues. Thank you again for all your help.
Daniel Amico
Mr. Burk handled my case with great professionalism and care. With his expertise he was able to save me medical expenses for unnecessary procedures as well as refer me to a great chiropractor. Knowledge and experience can be expected from Chris. 
Joel Wurster, Las Vegas, Nevada
Chris's passion for his clients and is beyond reproach. My needs were met from start to finish. If I could use one word to describe the experience 'turnkey' would best fit. After my accident and subsequent injuries I didn't know how to approach insurance carriers to discuss my situation. Chris worked with me every step of the way in getting me the appropriate care needed for my injuries, damages and communicated regularly on all aspects of my case. 
Joseph Almasy
Chris was able to handle my case with ease. His office is set up so you can scan and email him your information. He took his time and he actually cared about my case! He gave me his personal cell phone and email. He was able to resolve the case quickly and efficiently. Chris and his staff are so easy to work with!
M. De Los Santos
El Sr. Burk hizo un trabajo increíble en lo que respecta a mi caso de lesiones. Incluso me dio su número de teléfono celular. ¿Qué otro abogado hace eso? Él hacía un seguimiento semanal, desde las visitas del Dr., hasta simplemente verificar mi bienestar. Recomiendo encarecidamente al Sr. Burk a familiares, amigos y colegas. Gracias de nuevo por toda tu ayuda.
Daniel Amico
El Sr. Burk manejó mi caso con gran profesionalismo y cuidado. Con su experiencia, pudo ahorrarme gastos médicos para procedimientos innecesarios y recomendarme a un gran quiropráctico. Se puede esperar conocimiento y experiencia de Chris.
Joel Wurster, Las Vegas, Nevada
La pasión de Chris por sus clientes y está más allá de cualquier reproche. Mis necesidades fueron satisfechas de principio a fin. Si pudiera usar una palabra para describir la experiencia, "llave en mano" encajaría mejor. Después de mi accidente y lesiones posteriores, no sabía cómo acercarme a las compañías de seguros para discutir mi situación. Chris trabajó conmigo en cada paso del camino para obtener la atención adecuada necesaria para mis lesiones, daños y me comunicó regularmente sobre todos los aspectos de mi caso.
Joseph Almasy
Chris pudo manejar mi caso con facilidad. Su oficina eatá configurada para que pueda escanear y enviarle su información por correo electrónico. ¡Se tomó su tiempo y realmente se preocupó por mi caso! Me dio su teléfono celular y correo electrónico personales. Pudo resolver el caso de manera rápida y eficiente. ¡Es muy fácil trabajar con Chris y su personal!
M. De Los Santos
Types of Personal Injury Claims We Handle
Burk Injury Lawyers helps victims of personal injuries in Arizona in a range of claim types. Some types of personal injury cases we've encountered include, but are not limited to:
Christopher Burk is no stranger to the array of personal injuries accident victims may suffer. We have achieved successful outcomes in cases involving:
Broken hips
Broken wrists or legs
Spinal cord injuries
Traumatic brain injuries
Lacerations
Whiplash
Amputations
The Elements of an Arizona Personal Injury Claim
You may have a personal injury claim if someone else's action or inaction led to your injuries. For your personal injury case to be viable, the following elements must exist:
Duty of Care. The at-fault party must owe you a duty of care to act reasonably and prudently under the circumstances. As a rule of thumb, everyone owes everyone else a duty of care. For example, drivers on the road owe a duty to make responsible decisions when driving.
Breach of Duty. Your personal injury lawyer will need to show that the defendant breached the duty of care owed to you. For example, a person who is driving while intoxicated or texting breaches his or her duty of care to other drivers, passengers, and pedestrians.
Causation. We must demonstrate that the other party's breach of duty caused your injury. To satisfy this requirement, we may use medical experts and accident reconstructionists to prove that if the person had not breached the duty of care, you would not be injured.
Damages. Finally, we must show that you incurred some sort of damages, such as medical bills or lost income, because of the at-fault party's negligence or malicious acts.
In some cases, courts may also award punitive damages. These serve to punish the wrongdoer for intentional or egregious behavior and deter them from committing similar harms again.
If you were injured by someone else, Arizona personal injury lawyer Christopher Burk has your back. Call 702-620-2020 for a FREE, no obligation consultation.
FAQs About Personal Injury Claims in Arizona
Arizona personal injury attorney Christopher Burk is here to give you the answers you seek to help you decide how to proceed. Here are some commonly asked questions about personal injury claims in Arizona:
The length of a personal injury lawsuit in Arizona can vary greatly from one case to another. If the case involves multiple plaintiffs or defendants, for example, it may take longer to resolve than a case with one defendant and one plaintiff.
If the parties decide to settle the claim outside of court, it shortens the duration of the case. Insurance companies may attempt to use this to persuade you to settle for less than your case is worth. You are encouraged to consult an attorney to make sure the insurance companies aren't taking advantage of you.
No matter the type of case, you may expect a lawsuit to last at least a year in court. This is about the amount of time it takes for the parties to file the initial documents, conduct investigations, gather evidence, and prepare for trial.
Most Arizona personal injury lawyers charge a contingency fee to handle personal injury claims. If the attorney charges a contingency fee, you do not pay the lawyer fees unless you win your case through settlement or through a favorable verdict after trial. The lawyer would receive a set percentage of the total award that you receive. Typically, you and the attorney would discuss what the percentage is at the beginning of his or her representation.
It depends. You may still have a personal injury claim even if you are partially at fault or responsible for the accident. Arizona law typically allows plaintiffs to bring a personal injury claim and recover damages regardless of their percentage of fault for the accident. Exceptions may apply if, however. For example, if the plaintiff intentionally caused the accident, he or she will likely be barred from recovering compensation from the other party. An Arizona personal injury lawyer may help you understand your rights and whether you have a valid claim.