Las Vegas Nursing Home Negligence Lawyer
Nursing home negligence and abuse cause severe injuries and deaths to some of America's most vulnerable people. Labor shortages in the healthcare industry, inadequate training for nurses and other staff members, and lack of funding are often blamed for nursing home negligence and abusive acts that occur in assisted care settings. 
While these are valid complaints that should be addressed, they are no excuse for the pain and suffering that vulnerable nursing home residents and other elderly adults are forced to endure. Las Vegas injury attorney Christopher Burk holds negligent nursing homes and abusive healthcare workers accountable for injuries they cause to residents.
If you or your loved one suffered injuries caused by nursing home negligence or abuse, call Las Vegas injury attorney Christopher Burk for a free, no-obligation case evaluation.
Was Your Loved One Injured in a Nursing Home?
Making the decision to move a loved one into a nursing home or an assisted living facility is never easy. Long-term care facilities are expected to provide elderly residents with the best of care. Sadly, however, safe nursing homes are the exception in Las Vegas and elsewhere throughout the nation.
The World Health Organization (WHO) reports that nursing home abuse and negligence are on the rise in the United States. Approximately 1 in 6 older adults will experience some form of abuse this year, and the rates appear to be higher for elderly people who live in assisted care settings and nursing homes. According to reports, 16% of older people aged 60 and over are psychologically abused, 3.5% are physically or sexually abused, and about 4.2% are neglected. 
Long-Term Care Ombudsman programs receive over 188,000 complaints annually concerning exploitation, gross neglect, or abuse in nursing homes across the country. 
Even if nursing home residents cannot speak up for themselves, you can help identify the signs of abuse or neglect.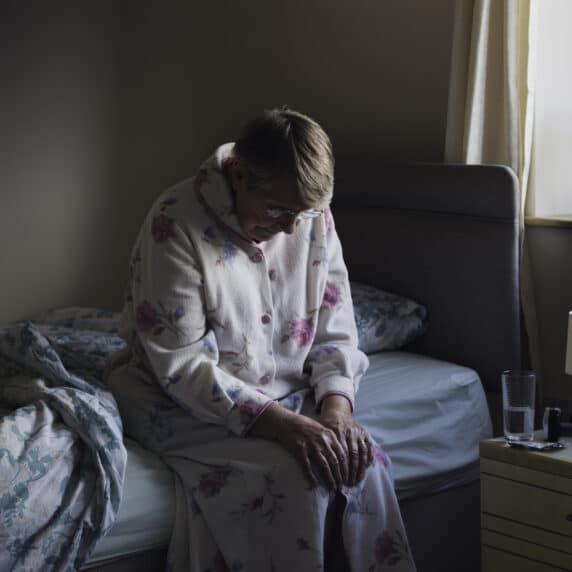 Identifying Signs of Nursing Home Neglect or Abuse
Signs that your loved one is not receiving the care he or she should be getting include, but are not limited to:
Unexplained bruises on the wrists, arms, face, or other parts of the body
Withdrawal from normal activities or from interacting with others
Body odors or hair that is unkempt
Sudden weight loss
Nervousness or signs of fear when caretakers are near
Depressive state of mind
Worsening medical conditions
Bedsores
If you suspect your loved one has been neglected or abused, it is important to talk with an elder abuse attorney as soon as possible. An experienced nursing home negligence lawyer can help you and your loved one take legal action to prevent further injuries and hold wrongdoers accountable for the pain their actions have caused.
"Chris works hard to get you the cash and care you deserve. His professional and friendly staff provide excellent support throughout the entire process. Chris supports veterans and made it his personal mission to help me and my family, thank you!"
Michael Tomasello
"After getting knocked off my motorcycle by a careless driver, I knew I needed help. This was my first time being injured in an accident. Chris Burk and his team educated me on the process, kept me informed during my case, and got me way more than I ever expected. I can not thank them enough. If you are looking for a group of professionals that genuinely cares about their clients, will put your best interest first, and will work hard to get what you deserve, then you have found the perfect legal team to represent you."
Dale Jones
"Everyone at Burk Injury Lawyers was great with helping me with my case and keeping me informed on what was going on in the whole process. Chris was super efficient and helpful throughout the whole process. His case manager Mylee was awesome and followed up with me a lot via e-mail and over the phone to let me know how everything on their side was going as well as to see how my treatments were. Thank you Chris and everyone at Burk Injury Law!"
Aleksandra Bolta
Mr. Burk did an amazing job when it came to my injury case. He even gave me his cell phone number. What other attorney does that? He followed up on a weekly basis, from Dr visits, to just checking on my well-being. I would highly recommend Mr. Burk to family, friends, & colleagues. Thank you again for all your help.
Daniel Amico
Mr. Burk handled my case with great professionalism and care. With his expertise he was able to save me medical expenses for unnecessary procedures as well as refer me to a great chiropractor. Knowledge and experience can be expected from Chris. 
Joel Wurster, Las Vegas, Nevada
Chris's passion for his clients and is beyond reproach. My needs were met from start to finish. If I could use one word to describe the experience 'turnkey' would best fit. After my accident and subsequent injuries I didn't know how to approach insurance carriers to discuss my situation. Chris worked with me every step of the way in getting me the appropriate care needed for my injuries, damages and communicated regularly on all aspects of my case. 
Joseph Almasy
Chris was able to handle my case with ease. His office is set up so you can scan and email him your information. He took his time and he actually cared about my case! He gave me his personal cell phone and email. He was able to resolve the case quickly and efficiently. Chris and his staff are so easy to work with!
M. De Los Santos
El Sr. Burk hizo un trabajo increíble en lo que respecta a mi caso de lesiones. Incluso me dio su número de teléfono celular. ¿Qué otro abogado hace eso? Él hacía un seguimiento semanal, desde las visitas del Dr., hasta simplemente verificar mi bienestar. Recomiendo encarecidamente al Sr. Burk a familiares, amigos y colegas. Gracias de nuevo por toda tu ayuda.
Daniel Amico
El Sr. Burk manejó mi caso con gran profesionalismo y cuidado. Con su experiencia, pudo ahorrarme gastos médicos para procedimientos innecesarios y recomendarme a un gran quiropráctico. Se puede esperar conocimiento y experiencia de Chris.
Joel Wurster, Las Vegas, Nevada
La pasión de Chris por sus clientes y está más allá de cualquier reproche. Mis necesidades fueron satisfechas de principio a fin. Si pudiera usar una palabra para describir la experiencia, "llave en mano" encajaría mejor. Después de mi accidente y lesiones posteriores, no sabía cómo acercarme a las compañías de seguros para discutir mi situación. Chris trabajó conmigo en cada paso del camino para obtener la atención adecuada necesaria para mis lesiones, daños y me comunicó regularmente sobre todos los aspectos de mi caso.
Joseph Almasy
Chris pudo manejar mi caso con facilidad. Su oficina eatá configurada para que pueda escanear y enviarle su información por correo electrónico. ¡Se tomó su tiempo y realmente se preocupó por mi caso! Me dio su teléfono celular y correo electrónico personales. Pudo resolver el caso de manera rápida y eficiente. ¡Es muy fácil trabajar con Chris y su personal!
M. De Los Santos
Holding Wrongdoers Accountable for Nursing Home Negligence
Nursing homes and assisted living facilities in Las Vegas have a duty of care to residents. They must:
Ensure long-term care facilities are safe
Make sure residents are free from mental, physical, verbal, sexual, or financial abuse
Assist people with disabilities when they need help with mobility, eating, drinking, bathing, or changing clothes
Provide adequate nutrition to residents
Give residents access to their personal belongings
Allow residents to have visitors unless doing so puts their health or safety in jeopardy
Avoid unnecessarily restraining residents
Provide medical care, medications, and medical tests
Make sure the people they hire are not a danger to residents
When approached with allegations of abuse or neglect, many nursing homes deny any wrongdoing. Sometimes they even use powerful legal firms or corporate legal teams to intimidate victims and family members to get the allegations dropped. Without experienced legal representation, many nursing home abuse victims simply fall through the cracks.
Nursing home neglect lawyer Christopher Burk believes that we must do more to prevent the increasing number of nursing home abuse and neglect incidents that are occurring in the U.S. We must protect vulnerable people from suffering at the hands of their caregivers. To ensure our elderly loved ones are safe, we must fight for the little guy and stop negligent caregivers in their tracks.
Neglecting the Needs of Elderly People Can Result in Serious, Deadly Injuries
When the needs of elderly people or those who are dependent on someone else go unattended, the results can be catastrophic. Assisted care negligence can cause:
Bedsores: When people are immobile, they require the assistance of nursing home staff or other caregivers to turn and reposition their bodies. Lying or sitting in the same position for extended periods of time can result in bedsores that are painful and can become dangerously infected. If untreated, bedsores can develop into injuries that cause permanent scarring, infectious disease, and even death.
Dehydration and Malnutrition: Patients in nursing homes and assisted care settings often depend on healthcare staff to help them prepare meals or to consume adequate food and liquids. When elderly people are unable to fend for themselves, their nutritional needs can easily be neglected resulting in malnutrition or dehydration. In severe cases, these conditions can exacerbate other health issues, and result in serious illnesses or death.
Falls: Falls are a leading cause of injury for older people who have grown unstable. Residents in nursing homes are required to be evaluated to determine whether they are a fall risk. When staff members fail to implement safeguards to reduce the risk of falls, vulnerable residents can experience fall accidents that cause broken bones, severe traumatic brain injuries, and fatalities.
Wandering: Patients with dementia are high risk for wandering that can lead to falls, heat or cold exposure, dehydration, drowning, and more. When facilities fail to take the proper steps to prevent wandering from the safety of the facility, and do not adequately supervise people who are prone to wandering, they can be held liable for the injuries and deaths that result.
FAQs About Nursing Home Negligence in Nevada
Medications to chemically restrain nursing home residents can only be administered in conjunction with psychiatric care and opinions. Sedation must be based on the resident's needs instead of the nursing home's convenience. When nursing homes drug residents to make them more compliant with staff, it is a form of nursing home abuse. Facilities can be held liable for physical and psychological injuries.
Nevada nursing homes are subject to state and federal regulations. Nursing homes that do not comply with federal and state regulations can be fined, barred from taking on new residents, banned from Medicare and Medicaid programs, and even closed down.
Multiple defendants can be held liable for abuse or neglect in Las Vegas nursing homes. Liability for damages can fall on:
Nursing home facilities
Individual staff members
Doctors, nurses, and other professionals
Cleaning companies
Food preparation companies