California Personal Injury Lawyer
California personal injury lawyer Christopher Burk takes on large corporations and faceless insurance companies to ensure your recovery is optimized when negligent parties cause you harm. Fighting for injured victims since 2004, our law firm has earned a reputation for providing personalized legal representation, going to battle on behalf of our clients, and delivering results. Burk Injury Lawyers can't stop injuries from occurring, but we have made it our mission to hold wrongdoers financially responsible for the harm they cause.
Don't let companies bully you into accepting less than your injury case is worth. Call Burk Injury Lawyers. Consultations are FREE.
Why Choose Personal Injury Lawyer Christopher Burk to Handle Your Case?
Burk Injury Lawyers is a personal injury law firm that focuses on making a difference in the lives of injured victims. With a passion for protecting the "little guy" in accident and injury cases, Christopher Burk has dedicated his career to helping his clients achieve success in cases involving car accidents, slips and falls, and other incidents that cause serious injuries. Never one to back down in the face of challenge, Chris will bring your case before the jury to ensure your rights as an injured victim are protected.
We take pride in providing top-notch legal service to our clients. Hiring California personal injury lawyer Christopher Burk to handle your case means you'll get an attorney who: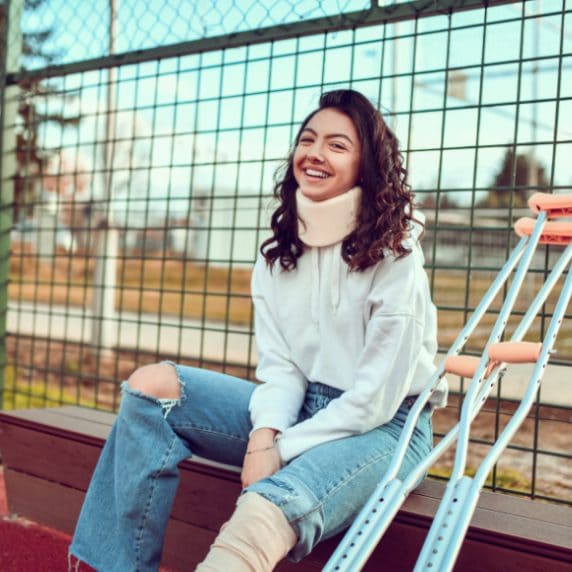 Puts your best interests first. Personal injury lawyer Christopher Burk will not be swayed by unscrupulous insurance companies, who may attempt to swindle you out of the compensation to which you're entitled.

Protects your legal rights. At Burk Injury Lawyers, we handle all communication with the insurance companies, large corporations, and their lawyers to ensure your rights as a victim are protected.

Represents you in court. Personal injury lawyer Christopher Burk is not afraid to battle defendants in court. He regularly brings cases like yours to trial to achieve a favorable outcome for our clients.

Makes sure all responsible parties are held accountable. We uncover crucial details that other injury lawyers often miss. It's in these details that liability is established, and cases like yours are won.
What Damages Are Available in a California Personal Injury Case?
The medical bills and out-of-pocket costs that accompany a serious injury can put a substantial amount of financial strain on your family. When you combine those expenses with a loss of income, simple things like keeping the lights on or putting food on the table can become nearly impossible. Unfortunately, many insurance companies will use your financial situation as leverage to get you to accept a quick payout that is significantly less than you need to pay for your losses.
As a California personal injury attorney, Christopher Burk understands financial challenges and hardships that are often endured by accident victims like you. He will make sure to receive enough compensation to cover your:
Lost wages. If you missed work because of your injury, or you were forced to work part-time or in a position that pays less than you were earning before you got hurt, you have a right to recover compensation from the at-fault party to replace your lost wages.
Lost future earnings. If we can prove that you are permanently disabled and will not be able to return to work, you may be able to recover compensation for your future lost wages as well.
Medical expenses. You may be entitled to compensation for all injury-related medical expenses. This includes emergency room treatment, as well as past and future hospital stays, surgery, prescriptions, diagnostic procedures, and doctor's visits.
Pain and suffering. Personal injury lawyer Christopher Burk can help you recover compensation for your physical pain, emotional trauma, loss of enjoyment of life, and other non-economic damages.

Insurance companies may attempt to lead you astray by offering you quick-fix settlement offers. Don't fall prey to their attempts to persuade you to abandon your legal rights so they can save money. Let California personal injury attorney Christopher Burk level the playing field.
"Chris works hard to get you the cash and care you deserve. His professional and friendly staff provide excellent support throughout the entire process. Chris supports veterans and made it his personal mission to help me and my family, thank you!"
Michael Tomasello
"After getting knocked off my motorcycle by a careless driver, I knew I needed help. This was my first time being injured in an accident. Chris Burk and his team educated me on the process, kept me informed during my case, and got me way more than I ever expected. I can not thank them enough. If you are looking for a group of professionals that genuinely cares about their clients, will put your best interest first, and will work hard to get what you deserve, then you have found the perfect legal team to represent you."
Dale Jones
"Everyone at Burk Injury Lawyers was great with helping me with my case and keeping me informed on what was going on in the whole process. Chris was super efficient and helpful throughout the whole process. His case manager Mylee was awesome and followed up with me a lot via e-mail and over the phone to let me know how everything on their side was going as well as to see how my treatments were. Thank you Chris and everyone at Burk Injury Law!"
Aleksandra Bolta
Mr. Burk did an amazing job when it came to my injury case. He even gave me his cell phone number. What other attorney does that? He followed up on a weekly basis, from Dr visits, to just checking on my well-being. I would highly recommend Mr. Burk to family, friends, & colleagues. Thank you again for all your help.
Daniel Amico
Mr. Burk handled my case with great professionalism and care. With his expertise he was able to save me medical expenses for unnecessary procedures as well as refer me to a great chiropractor. Knowledge and experience can be expected from Chris. 
Joel Wurster, Las Vegas, Nevada
Chris's passion for his clients and is beyond reproach. My needs were met from start to finish. If I could use one word to describe the experience 'turnkey' would best fit. After my accident and subsequent injuries I didn't know how to approach insurance carriers to discuss my situation. Chris worked with me every step of the way in getting me the appropriate care needed for my injuries, damages and communicated regularly on all aspects of my case. 
Joseph Almasy
Chris was able to handle my case with ease. His office is set up so you can scan and email him your information. He took his time and he actually cared about my case! He gave me his personal cell phone and email. He was able to resolve the case quickly and efficiently. Chris and his staff are so easy to work with!
M. De Los Santos
El Sr. Burk hizo un trabajo increíble en lo que respecta a mi caso de lesiones. Incluso me dio su número de teléfono celular. ¿Qué otro abogado hace eso? Él hacía un seguimiento semanal, desde las visitas del Dr., hasta simplemente verificar mi bienestar. Recomiendo encarecidamente al Sr. Burk a familiares, amigos y colegas. Gracias de nuevo por toda tu ayuda.
Daniel Amico
El Sr. Burk manejó mi caso con gran profesionalismo y cuidado. Con su experiencia, pudo ahorrarme gastos médicos para procedimientos innecesarios y recomendarme a un gran quiropráctico. Se puede esperar conocimiento y experiencia de Chris.
Joel Wurster, Las Vegas, Nevada
La pasión de Chris por sus clientes y está más allá de cualquier reproche. Mis necesidades fueron satisfechas de principio a fin. Si pudiera usar una palabra para describir la experiencia, "llave en mano" encajaría mejor. Después de mi accidente y lesiones posteriores, no sabía cómo acercarme a las compañías de seguros para discutir mi situación. Chris trabajó conmigo en cada paso del camino para obtener la atención adecuada necesaria para mis lesiones, daños y me comunicó regularmente sobre todos los aspectos de mi caso.
Joseph Almasy
Chris pudo manejar mi caso con facilidad. Su oficina eatá configurada para que pueda escanear y enviarle su información por correo electrónico. ¡Se tomó su tiempo y realmente se preocupó por mi caso! Me dio su teléfono celular y correo electrónico personales. Pudo resolver el caso de manera rápida y eficiente. ¡Es muy fácil trabajar con Chris y su personal!
M. De Los Santos
We Handle a Variety of California Personal Injury Cases
California personal injury attorney Christopher Burk represents victims in a wide range of cases. These include, but are not limited to:
Product liability claims
Daycare injuries
Our law firm has helped victims like you recover compensation for:
Back injuries
Hospital acquired infections
Bedsores
Spinal fractures
Head injuries
Neck injuries
Four Elements of a Personal Injury Claim
To recover compensation as the victim in a personal injury case in California, you will need to prove that the defendant caused your injury. In the context of a personal injury lawsuit, here's what that looks like:
Duty of Care. Your personal injury lawyer will need to show that the defendant owed you a duty of care to act as a reasonably prudent person would under the same or similar circumstances.
Breach of Duty. We must also show that the defendant failed to meet (i.e., "breached") that duty of care. This can be proven by, for example, presenting evidence that the other driver was intoxicated while driving, or that the hotel failed to put up caution signs to warn customers that the floor was wet.
Causation. It's not enough to show that the defendant was negligent, or that you suffered an injury. For your case to be viable, we will need to demonstrate that a causal relationship existed between the defendant's breach of duty and your subsequent injury.
Damages. To receive compensation, we will need to prove that you suffered actual damages because of the other party's negligence. Your medical records and/or expert testimony can help satisfy this element.
FAQs About Personal Injury Claims in California
California personal injury lawyer Christopher Burk can answer your personal injury claim questions. Here are a few of the frequently asked questions about personal injury cases:
Hiring a personal injury lawyer to assist you with your case increases your chances of reaching a successful settlement outside of court or winning at trial. Insurance companies are more likely to take your claim seriously if you have a lawyer.
Yes. You may have a valid personal injury claim even if you're partially at fault for the accident. California follows the "pure comparative negligence" standard of fault. This allows injured parties to recover compensation even if they are partially at fault. The amount of damages that you ultimately receive would be reduced by the percentage of your fault. For example, if you are 55% at fault for the accident, then you may recover 45% of your total damages from the defendant.
California law typically does not limit the amount of compensatory (economic) damages that a successful personal injury claim carries. However, there is a cap on the amount of non-economic damages that plaintiffs can receive in medical malpractice cases. In those cases, plaintiffs may only recover up to $250,000 in non-economic damages (such as pain and suffering).