Wondering what is considered a catastrophic injury? A catastrophic injury is one that leaves its victim with a permanent disability or disfigurement that prevents them from performing gainful work. These are injuries that are life-changing and costly in terms of initial and ongoing medical care, loss of income, and stress on victims' families.
Financial Future After a Catastrophic Injury
It can be difficult to determine all the expenses that will affect a catastrophic injury victim's financial future. Common damages that victims often seek compensation for include economic damages like:
Medical treatment
Ongoing physical or occupational therapies
Loss of income both present and future
Assistance from caregivers or home health aides
Assistive devices like wheelchairs
Prosthetics for loss of limb or disfigurement
Non-economic damages are also essential in a personal injury claim. These are damages that do not have a specific monetary value like pain and suffering, loss of enjoyment of life, and loss of consortium with the injured loved one.
Most Common Causes of Catastrophic Injuries
There are numerous ways that a catastrophic injury might occur, including motor vehicle or work-related accidents at construction or hazardous worksites. Freak accidents that happen in swimming pools or while playing sports can cause lasting injuries. Negligence on behalf of others like slip and fall accidents, medical malpractice, defective products, and pharmaceuticals could also cause catastrophic injuries.
What Constitutes a Catastrophic Injury?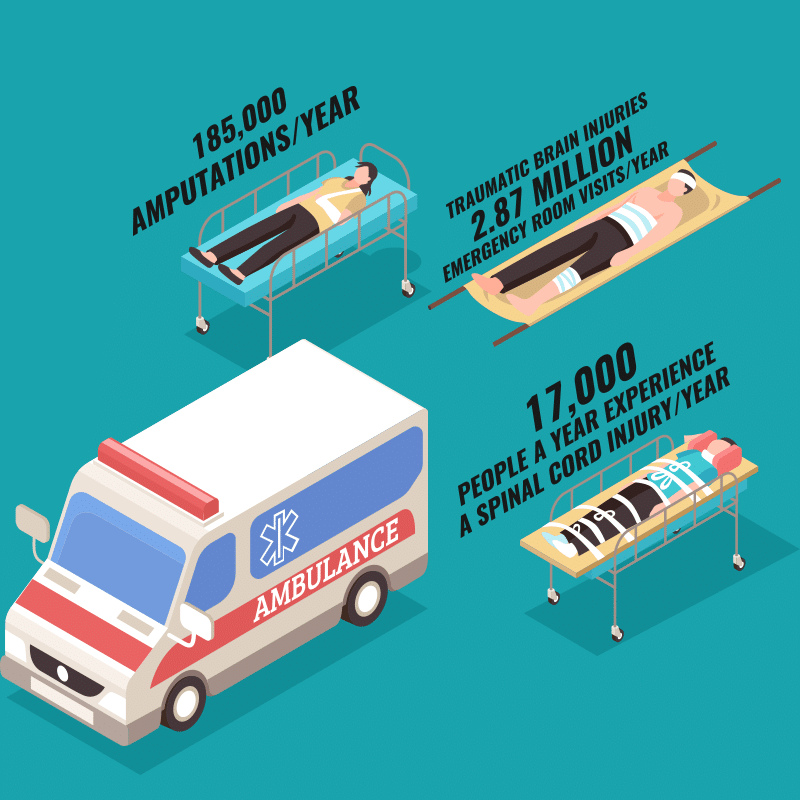 Catastrophic injuries are considered so severe that the victim suffers a long-term disability or debilitation. They might involve a deformity or loss of physical or mental capacity. In the United States, almost 185,000 amputations because of injury occur each year. Approximately 17,000 people a year experience a spinal cord injury with some becoming totally paralyzed or experiencing permanent limited movement. Severe burns that cause permanent disfigurement are also deemed catastrophic injuries.
Often a catastrophic injury is one that cannot immediately be seen. This is the case with a traumatic brain injury. TBIs contributed to a substantial number of permanent injuries and deaths each year in the United States. According to the Centers for Disease Control, about 2.87 million emergency room visits in 2014 were related to TBIs. Some people will heal from their TBIs. However, many will experience lifelong disability, including memory, cognition, behavior, speech, sensation, and movement impairments because of their brain injuries.