Las Vegas Premises Liability
Lawyer
Las Vegas premises liability lawyer Chris Burk ensures property owners are held accountable when their negligence causes victims like you to get hurt. If you were injured at a hotel or casino on the strip, in a grocery store or shopping mall, at an amusement park or zoo, or while visiting a friend, our injury law firm can help you recover compensation for your injuries.
Schedule your FREE, no-obligation consultation with injury attorney Chris Burk to find out more about your legal options.
Did Dangerous Property Conditions Cause Your Injuries?
Dangerous property conditions can lead to serious injuries and deaths for unsuspecting victims. Under Nevada law, property owners are required to keep their premises in relatively safe condition, free from foreseen hazards that may cause harm to the people who are lawfully on their property. Despite premises liability laws in Las Vegas, countless victims suffer severe, disabling, and even fatal injuries every day because of fall hazards, poor lighting, dangerous animals, inadequate security, and other risks.
When people are injured because of hazardous conditions on someone else's property, the responsible property owner, business owner, manager, or another entity may be held liable for damages. Identifying all of the responsible parties and contributing factors and proving liability, however, can often be challenging. Premises liability attorney Christopher Burk can help you determine the hazards that contributed to your accident and who may have been negligent.
Hazardous Property Conditions Are Everywhere in Las Vegas
Whether you're shopping at a local store, swimming at the public pool, spending the day with your family at an amusement park, winning big at the casino, or visiting friends for a backyard barbeque, you have the right to expect the property you visit to be free from foreseeable danger. Since property owners are responsible for maintaining their buildings, equipment, and land to help ensure your safety, and they are required to warn you about any dangerous conditions you might encounter, that expectation is not unreasonable.
Unfortunately, hazardous property conditions still injure hundreds of thousands of people every year.
Unsafe decks and walkways, unprotected swimming pools, poorly maintained or defective equipment, hazardous chemicals, and vicious pets may be lurking where you would least expect. And while you have the duty to exercise a reasonable amount of caution when confronted by dangerous conditions on someone else's property, when property owners know, or should know, about a hazard and they don't take the necessary steps to help ensure your safety, they can be held liable for any injuries that result.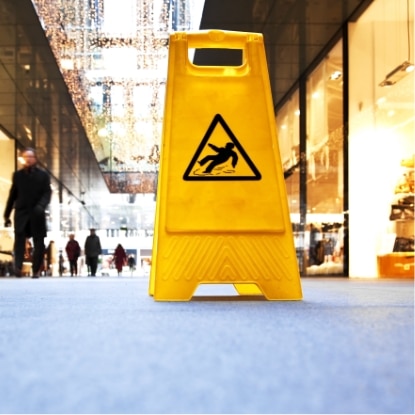 Property Owners Have a Duty of Care
The duty of care owed by the property owner to visitors and guests applies to most situations when people lawfully enter the premises. Even when injuries are caused by a third party, property owners can still be held liable for damages in most cases. If a third party brings a vicious dog on the property, for example, and the homeowner or business owner knew the animal was dangerous, the property owner can be held liable for injuries caused by a dog attack. The level of care a property owner owes, however, varies with the status of the guest.
When Invitees Are Injured
Property owners owe the highest level of care to invitees who visit their properties. They are obligated to identify and remedy hazardous conditions and warn invitees about existing dangers. Examples of invitees include hired workers, delivery persons, or patrons of a business. When invitees, like utility workers or salesmen, enter the property and are hurt, the property owner is liable for damages.
When friends, relatives, or neighbors are invited onto a property, owners have a limited duty of care. They are required to warn licensees of known hazards that could foreseeably cause an injury. If licensees become injured due to dangerous conditions and they were not warned of the known risks, the owner can be held liable for medical bills, pain and suffering, and more.
Owners and managers are not generally required to ensure the safety of trespassers who enter their premises without permission, but there are exceptions. Property owners can be held liable for damages if they intentionally cause the trespasser to be injured or if they passively permit a trespasser to be harmed knowing he or she is in danger.
Additionally, property owners can be held liable for child trespasser injuries if:
"Chris works hard to get you the cash and care you deserve. His professional and friendly staff provide excellent support throughout the entire process. Chris supports veterans and made it his personal mission to help me and my family, thank you!"
Michael Tomasello
"After getting knocked off my motorcycle by a careless driver, I knew I needed help. This was my first time being injured in an accident. Chris Burk and his team educated me on the process, kept me informed during my case, and got me way more than I ever expected. I can not thank them enough. If you are looking for a group of professionals that genuinely cares about their clients, will put your best interest first, and will work hard to get what you deserve, then you have found the perfect legal team to represent you."
Dale Jones
"Everyone at Burk Injury Lawyers was great with helping me with my case and keeping me informed on what was going on in the whole process. Chris was super efficient and helpful throughout the whole process. His case manager Mylee was awesome and followed up with me a lot via e-mail and over the phone to let me know how everything on their side was going as well as to see how my treatments were. Thank you Chris and everyone at Burk Injury Law!"
Aleksandra Bolta
Mr. Burk did an amazing job when it came to my injury case. He even gave me his cell phone number. What other attorney does that? He followed up on a weekly basis, from Dr visits, to just checking on my well-being. I would highly recommend Mr. Burk to family, friends, & colleagues. Thank you again for all your help.
Daniel Amico
Mr. Burk handled my case with great professionalism and care. With his expertise he was able to save me medical expenses for unnecessary procedures as well as refer me to a great chiropractor. Knowledge and experience can be expected from Chris. 
Joel Wurster, Las Vegas, Nevada
Chris's passion for his clients and is beyond reproach. My needs were met from start to finish. If I could use one word to describe the experience 'turnkey' would best fit. After my accident and subsequent injuries I didn't know how to approach insurance carriers to discuss my situation. Chris worked with me every step of the way in getting me the appropriate care needed for my injuries, damages and communicated regularly on all aspects of my case. 
Joseph Almasy
Chris was able to handle my case with ease. His office is set up so you can scan and email him your information. He took his time and he actually cared about my case! He gave me his personal cell phone and email. He was able to resolve the case quickly and efficiently. Chris and his staff are so easy to work with!
M. De Los Santos
El Sr. Burk hizo un trabajo increíble en lo que respecta a mi caso de lesiones. Incluso me dio su número de teléfono celular. ¿Qué otro abogado hace eso? Él hacía un seguimiento semanal, desde las visitas del Dr., hasta simplemente verificar mi bienestar. Recomiendo encarecidamente al Sr. Burk a familiares, amigos y colegas. Gracias de nuevo por toda tu ayuda.
Daniel Amico
El Sr. Burk manejó mi caso con gran profesionalismo y cuidado. Con su experiencia, pudo ahorrarme gastos médicos para procedimientos innecesarios y recomendarme a un gran quiropráctico. Se puede esperar conocimiento y experiencia de Chris.
Joel Wurster, Las Vegas, Nevada
La pasión de Chris por sus clientes y está más allá de cualquier reproche. Mis necesidades fueron satisfechas de principio a fin. Si pudiera usar una palabra para describir la experiencia, "llave en mano" encajaría mejor. Después de mi accidente y lesiones posteriores, no sabía cómo acercarme a las compañías de seguros para discutir mi situación. Chris trabajó conmigo en cada paso del camino para obtener la atención adecuada necesaria para mis lesiones, daños y me comunicó regularmente sobre todos los aspectos de mi caso.
Joseph Almasy
Chris pudo manejar mi caso con facilidad. Su oficina eatá configurada para que pueda escanear y enviarle su información por correo electrónico. ¡Se tomó su tiempo y realmente se preocupó por mi caso! Me dio su teléfono celular y correo electrónico personales. Pudo resolver el caso de manera rápida y eficiente. ¡Es muy fácil trabajar con Chris y su personal!
M. De Los Santos
Common Types of Premises Liability Cases in Las Vegas
Our Las Vegas injury law firm sees a wide range of premises liability cases that stem from dangerous property conditions.
Preventable slip, trip, and fall accidents cause severe injuries and deaths to countless victims every year in Las Vegas. Although the majority of personal injury cases involving slip and fall accidents are connected to injuries or deaths sustained in businesses or while people are at work, they frequently happen on residential properties as well.
Unsafe conditions that cause slip and fall accidents include:
Slip and fall accident lawyer Christopher Burk advises clients to take the following steps to protect their rights when slip and fall accidents occur.
Dog Bites and Animal Attacks
A dog bite or attack by a vicious animal can cause puncture wounds, lacerations, and nerve damage. In many cases, dog bite victims require multiple surgeries, physical therapy, and psychological treatment after getting mauled. When attacks are severe, dog attacks can result in death.
In Las Vegas, animal owners are responsible for ensuring their unprovoked pets do not harm visitors and passersby whether they are on the owner's private property or in a public area. When animal owners and handlers fail to control vicious pets, they can be held liable for damages when victims are harmed.
FAQs About Premises Liability in Las Vegas
Liability waivers generally only cover inherent risks. They are not airtight protections against liability for property owners. If your injury was caused by a dangerous property condition that could have been reasonably corrected, you may still be able to recover compensation for damages.
Victims who are injured by dangerous property conditions can file premises liability claims or personal injury lawsuits to recover compensation for lost wages, medical bills, pain and suffering, and more.
Liability for mall injuries can fall on various parties including but not limited to the property owner, business manager, cleaning company, maintenance crew, or security firm. To determine who you should sue, a premises liability lawyer will evaluate the location of your accident, the cause of your injury, and the parties who were responsible for maintaining safe conditions. In some cases, injury claims can be filed against multiple parties.