What to Do in the First 10 Minutes After a Fall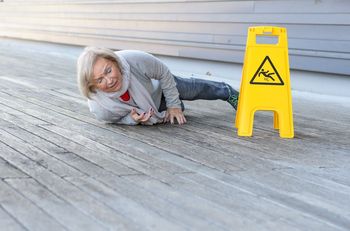 In the first ten minutes of a slip and fall, a victim should try to catch a breath and execute his or her plan of action. If the injuries are serious and emergency medical responders tell the victim to see a doctor immediately, then he or she should do that without hesitating. If the victim has no obvious injuries, then he or she should take the following steps.
Seeking Help
If the victim sustains serious injuries and requires an ambulance, he or she should avoid moving and call 911 with his or her cell phone, if possible. If the victim is unable to move or can't do it safely, then he or she should request someone else to make that call. He or she should request someone individually rather than screaming for help from a group of people.
Getting Medical Assistance Right Away
If the victim doesn't get medical attention at the scene, he or she should visit a hospital on the same day. He or she should provide a detailed description of the accident to the doctor, including the time, location, and how it happened. The doctor will include this information in the victim's medical records, providing a time-stamped date that it occurred to substantiate his or her story. In Las Vegas, a slip and fall lawyer can use time-stamped medical records and other pieces of evidence to build a strong personal injury claim against the at-fault party.
Reporting the Accident
The victim should notify the property owner or manager regarding the accident before leaving the accident location, if possible.
Refusing to Sign any Waivers
The victim must refuse to sign any waivers or agreements handed to him or her after the accident. Otherwise, the victim may end up giving up the right to recover damages from the liable party by filing an injury claim.
Documenting the Accident Location and Collecting Witness Information
The victim should take pictures and video of the accident location, clearly displaying the conditions of that place. Collecting information about direct witnesses, including their names, cell phone numbers, and addresses is also important.
Gathering Circumstantial Evidence
Circumstantial evidence includes building code breaches, a history of similar slip and fall accidents, or previous complaints regarding the unsafe condition that caused the accident. It also includes people who didn't witness the accident but may have information about the accident location and surrounding conditions.