Injured in a Stairwell Accident?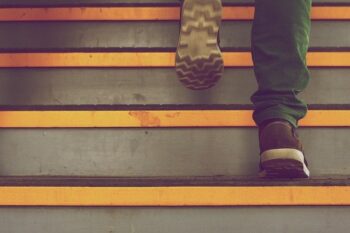 Las Vegas property owners can be held liable for stairwell accidents that cause injuries or deaths if their negligence contributed to the incident. The American Journal of Emergency Medicine reports that over one million Americans suffer stairwell accident injuries each year. According to the study, sprains, and strains, damage to the soft tissues, and fractures are the most common injuries caused by stairwell accidents.
Liability for Stairwell Accidents
Property owners in Nevada have a duty of care to ensure their properties are safe and risk-free for visitors. They must do their best to ensure all stairwells on their premises are hazard-free.
Property owners who violate their legal duty of care by failing to keep stairwells safe are negligent. If someone sustains an injury because of this negligence, the property owner would be legally responsible. The property owner would be liable for the damages suffered by the injured party.
Someone injured on stairwells can recover damages from the negligent property owner. The injury damages he or she is likely to recover include medical bills, future medical expenses, out-of-pocket expenses, lost earning capacity, and lost wages. A property owner is liable for a victim's injuries when:
The owner knew or should have known the risk to visitors
The owner should have known the hazardous condition would result in an accident
The owner failed to take appropriate steps to deal with the hazardous condition
The property owner's negligence directly resulted in the injuries
The injuries suffered by the stairwell accident victim are confirmable
Developing a Strong Injury Claim
Demonstrating a property owner's negligence calls for convincing evidence. Gathering evidence begins at the scene of the stairwell slip and fall accident. Pictures and videos displaying a broken stairwell, missing stair banister, incorrect stair depth or height, or torn carpeting are examples of convincing evidence.
Statements from witnesses at the scene of the accident, incident reports duly filed by property owners or managers, admissions against interest, and medical records are also important parts of a successful injury claim. A slip and fall lawyer in Las Vegas can help victims document a stairwell accident case, confirm injuries with medical records, gather expert reports, and build a strong claim. The lawyer can also calculate a reasonable settlement amount by taking into account both tangible and intangible damages.