Safe to Work Act: A Green Light for Neglect in Nursing Homes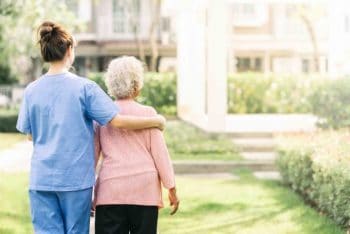 If the Safe to Work Act becomes law, it will make it more difficult for nursing homes and caregivers to be held liable for negligent care. This piece of legislation focuses on civil lawsuits for injuries or deaths resulting from exposure to COVID-19.
What Is the Safe to Work Act?
The Safe to Work Act is part of a COVID-19 stimulus package introduced in the Senate during late summer 2020. It sought to create a liability shield that would provide both retroactive and future protection for businesses and individuals "to discourage insubstantial lawsuits relating to COVID-19 while preserving the ability of individuals and businesses that have suffered a real injury to obtain complete relief."
While the Act would not prevent COVID-19 claims from getting filed, it raises the bar for plaintiffs to prove liability. The injured party or his or her representative, such as a family member, would need to prove that the COVID-19 exposure was due to gross negligence or willful misconduct on the nursing home or business's part. If provable, the defendant will lose the protection provided by the Safe to Work Act.
Why Families of Nursing Home Residents Should Be Wary
Taking away liability through the Safe to Work Act removes the last remaining oversight protection for nursing home patients. It removes the incentive for these facilities to comply with state and federal laws pertaining to patient care. In effect, it will reward negligent nurses, and patients will pay the price with their health or lives.
As of October 16, 2020, 31,995 COVID-19 cases occurred in Illinois nursing homes, resulting in 4,888 deaths. More than 40% of COVID-19 deaths in the United States occurred in long-term care facilities, including nursing homes. Since the beginning of the pandemic, these facilities have petitioned to avoid accountability for their negligence that has led to the harm or death of residents. While some states have given nursing homes immunity from civil and criminal liability, the Safe to Work Act takes immunity to a federal level.
According to the Centers for Medicare & Medicaid Services, there is a correlation between nursing homes that have histories of poor care and infection control procedures and COVID-19 outbreaks. Before the pandemic, the Government Accountability Office reported that 82% of nursing homes were cited for deficiencies in infection prevention and control. Almost half of these facilities had ongoing problems.