Injured in a Hit and Run? Here's Who to Sue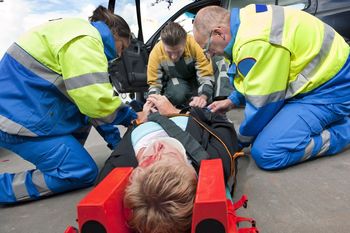 A person injured in a hit-and-run accident in Nevada can recover damages by suing the fleeing driver if he or she has been located or filing a claim with the driver's insurance company. If the driver cannot be found, the victim can file a claim against his or her own uninsured motorist policy to recover compensation.
Steps to Take After a Hit-and-Run Accident
A severely injured victim of a hit-and-run accident in Las Vegas should seek medical assistance immediately. Seeing a doctor right away strengthens the claim and provides the injured party with a better chance of obtaining compensation. The earlier the injured party begins documenting his or her injury, the more proof the injury lawsuit will have.
If the victim has no obvious injuries, he or she should immediately collect evidence from the accident scene. He or she should record details about the hit-and-run driver's car, including the model and license plate number.
The victim should describe the accident, record statements from any witnesses at the scene, and note down their contact details. The victim should visit the nearest police station to report the accident if the police didn't come to the scene.
The victim should then visit a doctor for a comprehensive medical exam even if the victim feels he or she didn't suffer any injuries at first. Seeking immediate medical help increases the odds of detecting and treating hidden injuries. It also enables an attorney to establish a link between the hit-and-run car accident and the victim's injuries.
Liability Determination and Comparative Negligence Rule
An injury attorney can evaluate the circumstances of the accident to determine why it occurred and identify other liable third parties besides the hit-and-run driver. If the victim was partially at fault, then the comparative negligence rule applies. The rule permits the victim proportional recovery of damages in an injury lawsuit if one or more other parties were at least 50% responsible for the accident.
Suing the At-Fault Driver
If the fleeing driver has been identified and found, the injured victim can file an injury lawsuit. The defendant can be slapped with compensatory damages and punitive damages. Criminal proceedings may also be initiated against the hit-and-run driver, depending on the damages or injuries caused. If the at-fault driver cannot be located, the victim can file a personal injury claim against his or her own uninsured motorist policy to recover compensation.