Biden Seeks to Expand Caretaking Services for Aging Americans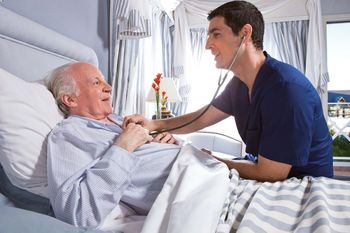 President Biden seeks to heavily invest in home care for older adults and persons with disabilities. This plan comes in the wake of a rapidly growing aging population that is currently straining America's caretaking system. Biden's bold plan aims to invest $400 billion in home- and community-based care within eight years.
Building a Stronger Structure of Services for Vulnerable Individuals
Proponents of the American Job Plan describe it as a historic and thoughtful chance to develop a stronger structure of services specifically for vulnerable Americans who require significant ongoing support. It comes as the COVID-19 pandemic has overwhelmed nursing homes, group homes, residential care facilities, and assisted living communities, killing over 174,000 individuals. This sad state of affairs has triggered awareness of the importance of more well-equipped and adequately staffed long-term care options.
Unclear Prospects for Biden's Plan  
President Biden has faced fierce criticism from Republicans over the cost of his proposal and the suggested tax raises on businesses he plans to include to even out the new spending. Republicans further argue that a significant part of what is in the proposed plan, including the focus on home-based care, isn't real infrastructure. Professor Joseph Gaugler, a long-term care scholar at the University of Minnesota, describes the proposal as a crucial step to solidifying the fundamental structure of the American long-term care system. He, however, says the proposal will face political challenges.
Even proponents of Biden's Job Plan agree it doesn't deal with the full extent of care required by the rapidly increasing aging population in the nation. Middle-income older adults won't be directly eligible for the expanded caretaking programs. The plan, however, seeks to address the long-standing nursing home staffing shortages by developing a bigger, well-paid, and adequately trained workforce of certified nursing assistants (CNAs) that provide home-based care. Middle-income seniors would definitely benefit from these CNAs.
Proposed Services in the President's Plan
The proposal seeks to improve and expand home and community-based services. These services can help people who require significant support live at home rather than at assisted living centers or nursing facilities. Services can include help with personal care like bathing, cooking, or eating, home visits from physical therapists or aides, and medical treatment at adult day centers. These services can also include paying for medical equipment like oxygen tanks, wheelchairs, bath chairs, and standing frames.
Increasing Need for Significant Assistance
Statistics show that 70% of elderly Americans will need assistance with hygiene, bathing, dressing, moving around, taking medicines, financial management, cooking, and other everyday tasks at one point in their lives. As the American aging population is projected to hit 74 million in 2030, that need will increase dramatically. Likewise, younger adults and kids with health conditions like intellectual disabilities, cerebral palsy, and blindness will also need significant assistance.
Strain on Families
Millions of family members incur substantial financial and emotional costs in caring for vulnerable older adults and persons with disabilities. AARP reports that family members spend at least 24 hours per week providing care to their vulnerable loved ones and incur out-of-pocket expenses worth $7,000 on that care. A 2020-survey by Genworth shows that a home health aide charges around $24 an hour. The annual fee for most assisted living centers is $51,600, while that of a semi-private room in a nursing facility is $93,075. These figures show that caring for loved ones at home is more affordable than having them in care facilities.
Medicaid Options
Medicaid, a federal-state insurance program that offers health coverage to low-income households, can be a great option. The program, however, has strict financial qualification standards and targets only individuals with negligible income and assets. Available data shows that Medicaid finances home and community-based care for 4 million to 5 million individuals, a small percentage of those who require the care.
Workforce Problems
Other than promising to expand home and community-based services and giving caregivers a raise, better benefits, and a chance to establish or join a union, Biden's plan doesn't clearly state how the $400 billion would be used. Caregivers take home an average hourly rate of $12, with a third of those employed by agencies working without any health insurance. By 2030, an additional 1 million home and community-based caregivers would be required. That number will be hard to attain due to poor pay and unfavorable working conditions. Consequently, nursing home neglect or abuse will continue to be a challenge in the U.S. due to understaffing.
Nursing home understaffing is a threat for staff members and residents. This phenomenon indirectly contributes to nursing home abuse since overworked and poorly paid nursing home employees and caregivers are highly likely to abuse the residents. Nursing home neglect lawyers can help a resident injured because of nursing home abuse or neglect obtain reasonable financial compensation.